Dental Implants – Fort Mill, SC
Reliable Tooth Replacement That Lasts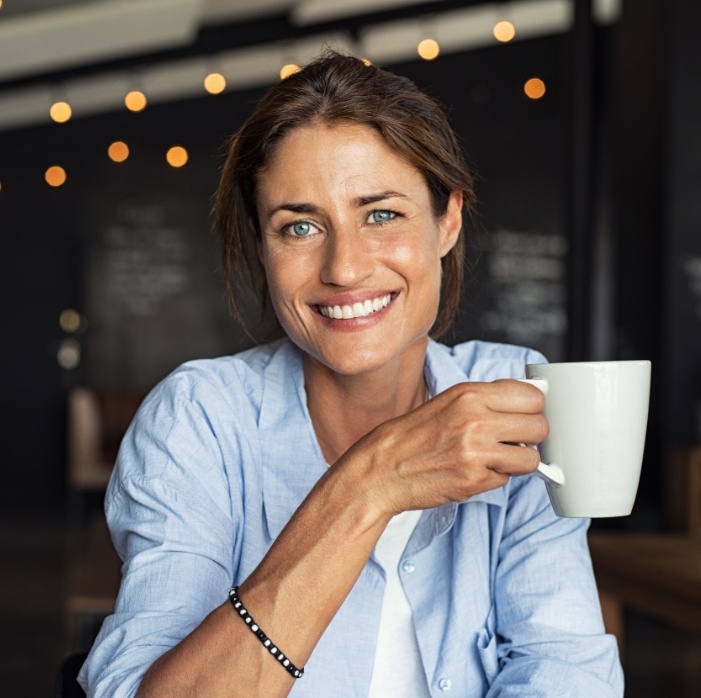 When it comes to longevity, stability, and chewing strength, traditional tooth replacements like dental bridges and dentures leave much to be desired. That's why the vast majority of dentists, including our very own Dr. Priya Chougule, believe that dental implants are the definitive way to restore your lost pearly whites. By replacing your teeth from the roots up, dental implants from our Fort Mill, SC dentist look and feel just like the teeth you used to have. To schedule your dental implant consultation, call our Southlake Family Dentistry team today!
Why Choose Southlake Family Dentistry for Dental Implants?
Partnered with Expert Oral Surgeons and Periodontists
Individually Tailored Treatment Plans from an Experienced Dentist
Mess-Free, Comfortable Digital Dental Impressions
What Are Dental Implants?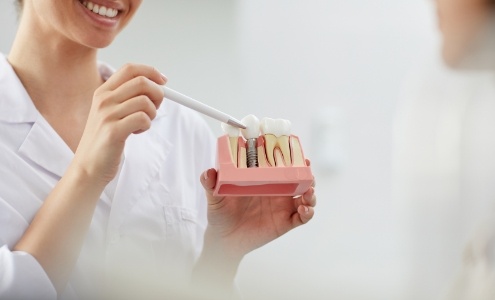 Dental implants replicate the roots of missing teeth – something that dentures and bridges alone cannot do. Made from titanium or other biocompatible materials, a dental implant is a small cylindrical post that is embedded in your jaw using a minor surgery. Your jawbone then grows around the implant, allowing it to firmly support any number of prosthetic teeth for many years, decades, or even a lifetime!
The 4-Step Dental Implant Process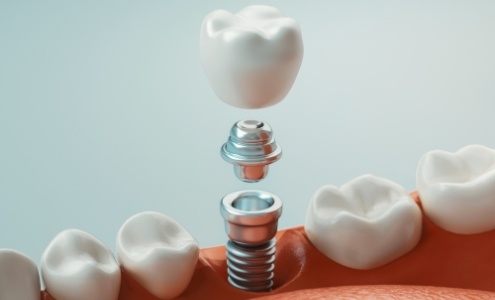 You can expect your dental implant treatment to consist of four basic phases:
Consultation – First, Dr. Chougule confirms your eligibility for dental implants and determines how many posts you need. She'll also let you know whether you need prep work such as bone grafting in your jaw.
Surgery – You'll be referred to a local expert to have the implants surgically positioned in your jawbone.
Osseointegration/Abutment – Osseointegration is the process of the implants fusing to your jawbone, and it can take up to six months. Afterward, a metal abutment is attached to the top of the post.
Restoration – We take impressions of your mouth and use them to design your dental crown, bridge, or denture. Then, we secure that restoration onto your abutment.
Benefits of Dental Implants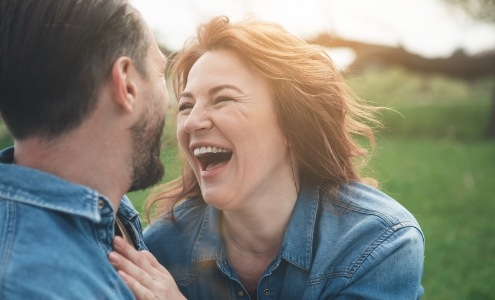 When a tooth goes missing, your jawbone begins to shrink as it loses the stimulation provided by the tooth's roots. As a result, your jaw becomes less able to support your remaining teeth, increasing your risk for additional tooth loss and making your face appear sunken and older. Dental implants function like natural tooth roots to keep your jaw healthy and your face looking youthful. They also restore your chewing power, don't require any maintenance beyond basic brushing and flossing, and they can potentially last for 30+ years.
Who Dental Implants Can Help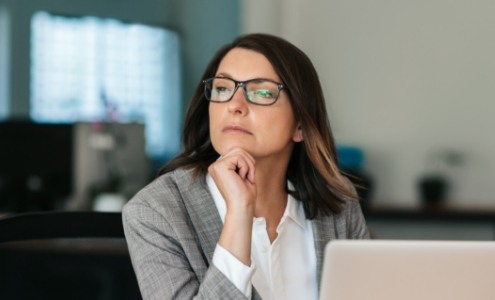 To receive dental implants, you must have healthy gums, adequate jawbone density, and a commitment to maintaining good oral hygiene. As long as you meet those requirements, dental implants can replace any number of lost teeth via one of the following treatment options:
Missing One Tooth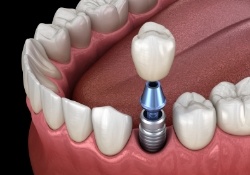 A single implant post can be placed in a gap and topped with a lifelike, custom-made crown. Unlike traditional bridgework, a dental implant does not depend on neighboring teeth for support, making it the more conservative choice.
Missing Multiple Teeth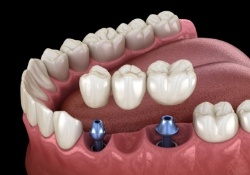 To replace several missing teeth in a row, you don't need to get an implant for each tooth. Instead, one can be placed at each end of the empty space to support a dental bridge that stays in place without wearing down any of your remaining teeth.
Missing All Teeth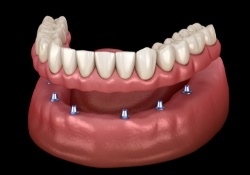 By anchoring a full denture onto a small number of implant posts (usually between four and eight), we can bring back a whole row of lost teeth at once. With implant dentures, you'll never need to worry about your prosthetic slipping out of place or limiting your diet.
Understanding the Cost of Dental Implants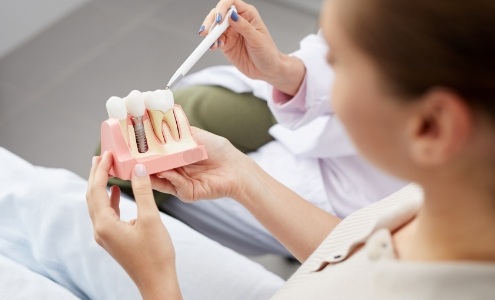 While dental implants typically cost more at first than other methods of tooth replacement, you have to consider the long-term benefits. Because they can last for 30 years or longer and don't require any special maintenance products like dentures do, you'll most likely end up saving money over the years. Each dental implant case is different, and our team will help you navigate your payment options so that rebuilding your smile doesn't break the bank.