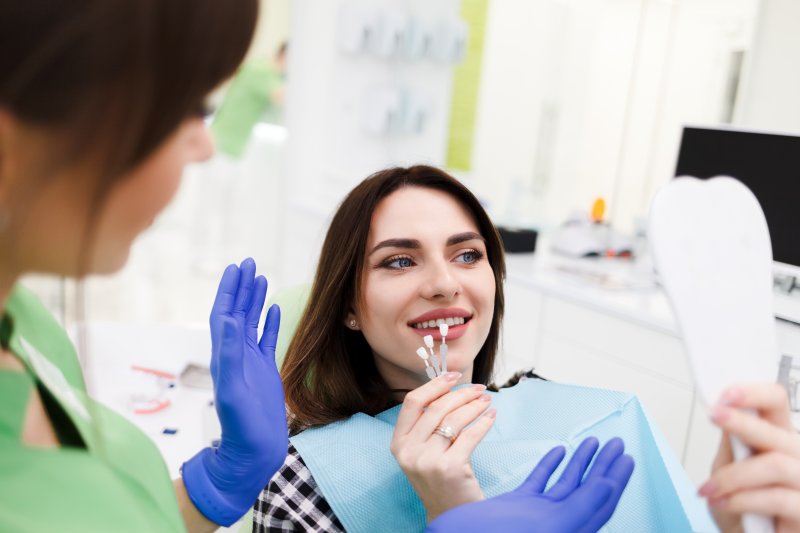 Who doesn't want a beautiful white smile? Thanks to veneers in Fort Mill, you can achieve that in no time at all! The ultra-thin shells are capable of addressing everything from severe discoloration to dental misalignment. If you want your newly transformed grin to last as long as possible, you're going to have to take proper care of it. Below, you'll find tips to maintain your veneers and get the most out of your investment.
Practice Good Oral Hygiene
Taking care of your veneers is as easy as caring for natural teeth! Brushing twice a day, flossing daily, and rinsing every day with an ADA-approved mouthwash are excellent practices to keep your smile problem-free. Of course, you'll want to make sure you're following the right techniques to avoid damaging your veneers. It's important to brush gently to prevent any chips or cracks. When you get your veneers, you can ask your dentist for a tutorial on how to properly clean around your new dental hardware.
Switch Up Your Toothpaste
Porcelain can easily become damaged by abrasive substances, such as gritty toothpaste. Most whitening toothpastes contain abrasive ingredients that are meant to polish away surface stains on teeth. Unfortunately, they can scratch your veneers, doing more harm than good. It's strongly recommended that you brush gently with a soft-bristled toothbrush and a toothpaste that carries the ADA's Seal of Acceptance.
Avoid Potentially Harmful Foods
Since veneers are non-porous, they won't stain when you consume dark-colored foods and drinks like coffee, tea, red wine, and blueberries. However, they can still affect the natural teeth next to veneers. If you continue to eat these things, they'll cause a noticeable color difference over time, which is why it's best to avoid them in the first place.
Kick Bad Habits to the Curb
Smoking and using tobacco are known to be detrimental to your overall health. Well, these poor habits are also particularly harmful to your smile. They can stain your natural teeth and veneers, making them appear yellow. It's a good idea to kick these habits to the curb as soon as you can. If you need help quitting, your dentist in Fort Mill can provide you with resources and guidance to make the feat as easy as can be.
Visit Your Dentist Regularly
It's incredibly important to visit your dentist every six months for a checkup and cleaning. While the veneers themselves won't experience deterioration, you still need to ensure your underlying teeth are healthy to keep your smile looking its absolute best for years to come. A dental professional will make sure everything is not only looking great, but working perfectly as well.
Veneers are a worthwhile investment that can last years to come with proper maintenance. With these tips, you can get the most out of your new smile and enjoy it for as long as possible!
About the Practice
At Southlake Family Dentistry, we offer high-quality, personalized, state-of-the-art dentistry to every patient that walks through our doors. Our team is passionate about helping everyone achieve and maintain their very best smiles. If you'd like to learn more about maintaining your veneers, don't hesitate to ask our friendly team. You can make an appointment via our website or call (803) 548-3342.