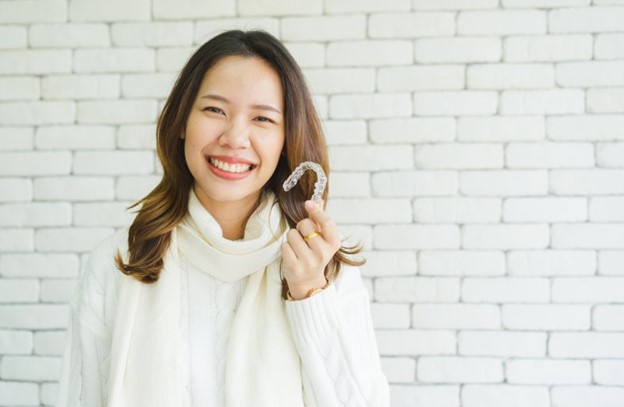 Are you unhappy with your smile because of crooked and misaligned teeth? If so, your situation isn't hopeless, and you might be interested in Invisalign as a possible treatment option. Invisalign has taken the world of modern dentistry by storm, and many patients are turning to the clear aligners to provide them with beautifully straighter and healthier smiles. However, you might have questions about the overall treatment process. Keep reading to learn about each step of the Invisalign process and what you can expect.
Step #1: The Initial Consultation
Invisalign is capable of correcting a multitude of orthodontic problems including crooked or misaligned teeth, overcrowding, and even bite problems in some cases! However, it has difficulty trying to correct severely angled or rotated teeth, as well as closing large spaces. During your initial consultation, your dentist or orthodontist will complete an examination of your mouth to determine if you're a good candidate for Invisalign.
Step #2: Diagnostic Records
If your dentist deems you eligible for clear aligner therapy, they'll proceed by gathering some additional information to get your trays made. They'll take photographs of your face and smile along with a couple of dental X-rays. They can also utilize scanning technology to create a 3D replica of your mouth (although some orthodontists still use the old-school, gooey impression material to make molds of your teeth). Once your dentist has gathered all the necessary information and details, they will send the data over to a lab where your clear aligners will be custom-made for you.
Step #3: Receiving Your Clear Aligners
It might take a couple of weeks for your aligners to arrive, but once they're in, your dentist will schedule an appointment to make sure that everything fits correctly. Sometimes you'll receive "buttons" which are small, tooth-colored bumps made from composite resin that are attached to your teeth to help keep your aligners in place. Before you leave the office with your trays, your dentist will also ensure that you understand how to wear them and clean them.
Step #4: Follow-Up Appointments
You'll have to periodically visit your dentist or orthodontist's office for checkups to ensure that your treatment is going according to plan. Sometimes you might need a button tweaked or an aligner adjusted, but if your progress is right on track, you'll receive your next set of aligners to begin wearing.
Step #5: Final Refinements
After you're finished with your initial trays, you might need a refinement. This means that your optimal results are still a few minor tweaks away, which isn't a big deal at all! During the Invisalign process, teeth sometimes need additional corrective movements to get to their final, optimal position. In most cases only one or two refinements are necessary.
Step #6: Getting Your Retainers
Once your teeth are properly aligned, you're nearly done with your treatment! If you had any buttons placed, they'll easily be removed. However, to ensure that your smile doesn't revert to its original and crooked state, you will need to wear retainers. These are usually similar in appearance to the Invisalign aligners, and you'll gradually wear them less frequently as time passes.
If you're curious about receiving Invisalign to correct your crooked teeth, don't hesitate to talk with your dentist. The process is usually straightforward, and the results are well worth it.
About the Practice
Southlake Family Dentistry proudly serves patients and families in the Fort Mill area under the leadership of Dr. Priya Chougule and Dr. Ashley Fasone! Dr. Chougule and Dr. Fasone both have several years of experience and expertise and their practice is pleased to offer many available services, including Invisalign! If you have any questions about Invisalign or would like to schedule a visit, you can contact the practice online or give them a call at (803) 548-3342.