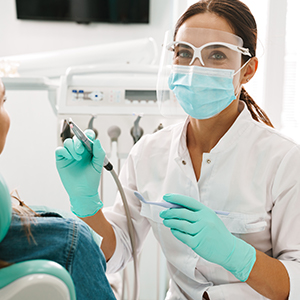 Do you ever feel like you have a million questions to ask of your dentist but can't think of them on the spot? This post is for you! We get these questions frequently here at Southlake Family Dentistry and want our patients to have the answers. So, here are the top questions you've probably been wanting to ask your dentist.
How Often Should I Have a Dental Exam & Cleaning?
The answer to this question is simple: you should visit your dentist every six months. During your bi-annual visit, your dentist will examine your teeth and gums checking for cavities, gingivitis, oral cancer screening, and other dental problems. You'll also receive a cleaning, which gets rid your mouth of plaque and leaves your teeth feeling clean and fresh breath. If you're overdue for your next dental exam, set up an appointment online. 
How Can Cosmetic Dentistry Help Perfect My Smile?
At Southlake Family Dentistry, your smile is our passion. We are here to provide to the perfect smile you desire and we have several options for you. The first and one of the most popular is a whitening treatment. We offer a few different options for this, including at-home whitening trays and to-go trays. Have a cracked, chipped, or discolored tooth? Bonding will help fix all of these imperfections! If your teeth are misaligned, then Invisalign can help straighten your teeth to perfection. Finally, veneers are the ideal choice for those who want a truly perfect smile that lasts and looks new always.
What Forms of Payment Do You Take?
We offer several forms of payment here at Southlake. You can pay for your dental treatment by check, cash, HSA or credit card with ease. We are also pleased to accept CareCredit, a healthcare credit card we accept to pay out-of-pocket healthcare expenses. If you have any questions about payment at Southlake, please give us a call at 803-548-3342.
Should I Be Worried About My Gums Bleeding?
If your gums bleed regularly when eating or brushing your teeth, there is a chance you have gum disease or gingivitis. But never fear, half of Americans age 30 or older have gum disease and it is a treatable condition. You can treat gingivitis by coming in for a deep dental cleaning, and you and your dentist can discuss whether you need more frequent treatments. Daily brushing and flossing also help to keep gum disease away, so be sure you are taking measures to improve your dental health at home. Our team here can put you on a daily hygiene regimen.
Why Are My Teeth So Sensitive?
There can be a few different reasons you're experiencing sensitivity, the first being that some people are simply more prone to sensitivity than others. However, sensitivity can present itself when tooth enamel is worn down or if you have exposed tooth roots from gum recession or from a cavity. If your sensitivity is bothering you, you did the right thing by coming in for an appointment with your dentist and asking him/her to take a look.
Now that we've reviewed some of the top questions we get from our patients, you might have even more. Set up an appointment at Southlake today and we will be sure to answer all of your dental-related questions!